Arts and Crafts Style Copperware
Traditional
and Contemporary Designs
Copperware in the Arts and Crafts tradition. Items range from vases to picture frames to bookends. May pieces are patterned after original Arts and Crafts pieces from the early 1900s. Others are of the makers own design.
John also produces some pieces just for the fun of working with copper and can produce custom items on request.
John Monk has been working with copper since 2010. John was introduced to Arts and Crafts style copperware at the John C Campbell Folk School. Previously a tinsmith, the joy of working copper revitalized his desire to create.
Now, after retiring from a life of diverse professional activities, John is bringing his art to you.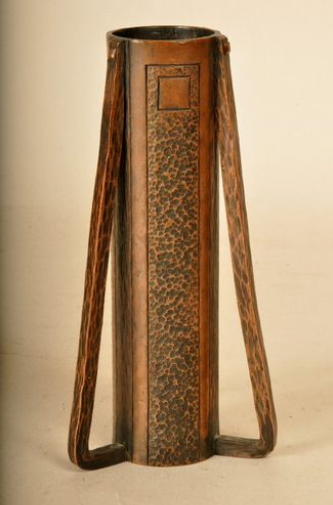 Items on this website may be purchased from the artists by contacting him at john@luminesque.com or using the contact form in this website
Not all items on the website are immediately available. The items you purchase may not be the exact items shown here, but will be similar appearance and quality.
In 2020 John was jurried in as an Artisan In Metal by the Roycrofters At Large Association. His work can be found at the Schoolhouse Gallery in East Aurora New York, and the Museum Shop at the Museum of the American Arts and Crafts Movement in St. Petersburg, Florida.
John is participating in the 2022
RALA Summer Festival show July 25 and 26.